Private Tour of Lisbon, Estoril Coast and Sintra - UNESCO World Heritage Site
Europe » Portugal » Lisbon and Central Portugal » Lisbon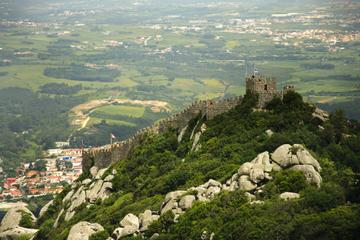 (5.0)
Duration: 8 hours
Departs: Lisbon, Portugal
Price from USD 115.06
Book Now
If you have only a day to discover the city, indulge in a private tour of Lisbon combined with a visit to Sintra, a World Heritage town nestled beautifully in an array of hills, and a drive through the breathtaking coastline of Estoril, a popular seaside resort area. This private tour is the perfect combination if you are short on time - in just one day you'll see the best of coastal Portugal, ensuring you'll receive personalized attention from your guide.
Start your private tour from Lisbon by exploring Sintra, a UNESCO World Heritage-listed town with fantastic architecture. Wander through its narrow streets before heading to the top of the mountain to visit the 19th-century extravaganza of King Ferdinand - the Pena National Palace, known for its rare combination of Romanticist architectural styles and colors.

Then relax during a journey along the Estoril Coast. Your starting point will be the small historical center of Cascais, where the fishing tradition of the past still exists today. From here you will continue along the coast and beautiful beaches of Estoril, gazing at the big blue Atlantic Ocean as you make your way back to Lisbon.

In Lisbon, you'll spend the afternoon exploring all the busy main squares that make this city a gorgeous European capital. At the top of the highest hill of Lisbon, you will find the Castle of Saint George, with an astonishing view of Lisbon and the old Moorish quarter of Alfama.

Lisbon is nowadays just the capital of Portugal, but it is one of the world's oldest cities in the world and was once the center of a huge empire that comprised half the planet! Many of the adventurous Portuguese explorers throughout history departed from the next area that you will visit - the district of Belém. Belém's most famous features are the 16th-century Tower of Belém and the Jerónimos Monastery. You'll also see Monument to the Discoveries, erected in 1960 to honor the 500th anniversary of the death of Henry the Navigator.
« All Activities