Dolphin and Whale Watching in a Luxurious Catamaran
Europe » Portugal » Madeira » Funchal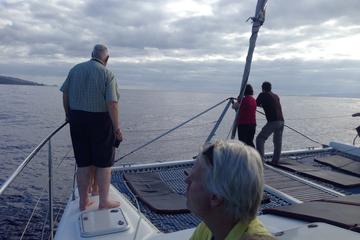 (5.0)
Duration: 3 hours
Departs: Funchal, Portugal
Price from USD 27.89
Book Now
The tour departs from Funchal Marina and allows guests to enjoy an unforgettable trip on an award winning Catamaran. Part of this fun package is keeping a look out for the dolphins and whales, which are often spotted splashing and jumping nearby. The tour is restricted to a maximum of 18 couples, meaning everyone has a better chance to relax and see the sea life without crowds. Enjoy swimming in front of Cabao Girao, the second highest sea cliff in the world, with the goggles and masks provided.
Arrive at the marina approximately 20 minutes before the departure time. Once everyone has arrived and all questions are addressed, we will take a short walk to the waiting Catamaran. The 3 experienced crew members are ready to welcome you and help everyone aboard.

The comfortable interior offers a comfortable seating area with sun and wind protection. Contrasting with this luxurious interior is the opportunity to relax on the sun beds on deck, stretch out on the trampoline nets or simply gaze around looking for sea life, while the shore line fades into the background.
Before everyone sets off to find their place on the boat, there is a short but necessary briefing. This allows everyone to get the most from their experience through ask questions and understanding safety considerations. By the time the crew have been introduced and the initial briefing has been completed, you will be ready to sail out to sea and look back at Funchal Marina.
Although it's not guaranteed
, you can scout for dolphins or whales as they make a sudden but spectacular appearance.
The mesmerizing effect of abundant sea life is something special and while all the passengers are engaging in their own unique way with the cetaceans, our crew will be busy explaining the variety of species involved in the experience.
After spending some time spotting the sea life, the skipper will usually head west for Cabo Girao, the second highest sea cliff in the world at 580 meters.
While moored in the shadow of Cabo Girao, it might be time to take a dip.
The last part of the trip will focus on a leisurely cruise back to Funchal Marina, with the main sail blazing depending on the available time and weather conditions. The last leg of the journey home goes by the coast line, which allows everyone to view the Madeiran landscape as well as the hotels built along the shoreline. This will include the world famous Reid's Hotel where afternoon tea is a special tradition.

All too soon the boat arrives back in the Marina for the quick disembarking process that allows everyone to continue with their holiday.
« All Activities